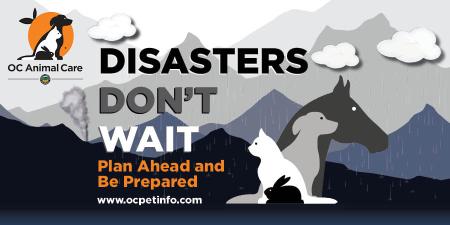 Plan Ahead and Be Prepared!
Orange County is subject to heavy rainfall this time of year which could lead to potential flooding and debris flow near burn scar areas. OC Animal Care is urging residents located in the Bond Fire burn scar areas to implement and activate their personal plan to get their pets out safely and early. Prepare now to ensure you and your pets are safe by following these steps:
• Have a plan – know where your pets can go and how they'll get there
• Pack their bags – have your pet's supplies packed and ready to go
• Don't delay – Large animal owners should move their pets prior to the rain so roads are clear
• Access OC Animal Care's free toolkit and resources with information available in 6 languages at https://www.ocpetinfo.com/education.../disaster-preparedness.
Remember to also sign up at https://member.everbridge.net/453003085613900/login for ALERTOC so you will be notified if an evacuation order is placed.